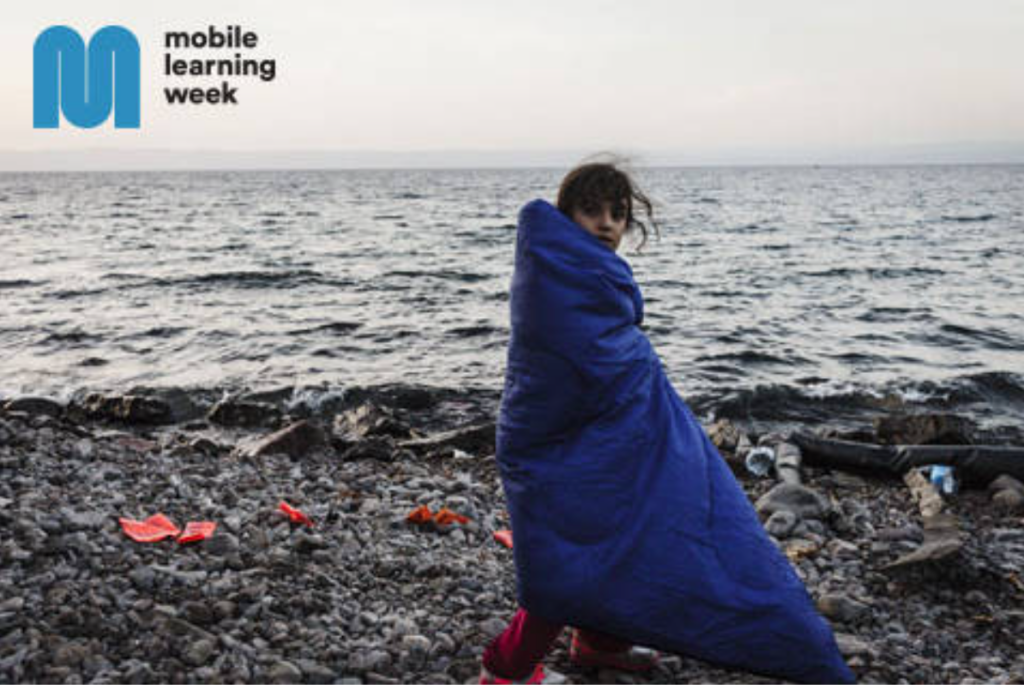 "Mobile Learning Week is UNESCO's flagship ICT in education conference. The 2017 event will examine how new and affordable technologies can reinforce education in emergency and crisis contexts and expand learning opportunities for displaced people while facilitating their inclusion in national and community systems.
Mobile Learning Week 2017 is being organized in partnership with UNHCR, the United Nations refugee agency, and in collaboration with ITU, the United Nations specialized agency for ICT, under the theme "Education in emergencies and crises".
A mobile device tends to be one of the few possessions taken by people forced to leave their homes, and, in many instances, displaced people have access to a smartphone. These devices provide a portal to a wide range of tools and services: from connecting with friends and family to saving documents to accessing information and translating it into native languages. A mobile phone is often, and for good reason, a lifeline for people who have been displaced or are in an emergency situation.
Mobile technology can also open doors to education, bringing learning to people where they are, preparing them for work, easing their integration into new communities, firing their imaginations, building resilience and illuminating routes from an uncertain present to more promising futures. While innovation related to the educational use of mobile technology is flourishing, sustainable strategies to leverage it at scale for vulnerable populations in low resource settings remain in short supply. Solutions are only just beginning to come into focus.
Mobile Learning Week 2017 will examine how these solutions can be enlarged. It will deepen understandings of how affordable technology can help meet the educational needs of learners displaced by emergencies and crises. The event will be held in partnership with UNHCR from 20 to 24 March at UNESCO Headquarters in Paris.
Mobile Learning Week 2017 has been designed to facilitate international knowledge-sharing and expand knowledge of how technology can:
– Strengthen inclusion in education
– Preserve the continuity of learning in conflict and disaster contexts
– Open and enrich learning opportunities for refugees and other displaced people
– Facilitate the integration of learners in new schools and communities
– Foster innovation in the education sector and improve the impact and sustainability of humanitarian interventions
The five-day event will include:
– A Symposium to highlight solutions that leverage technology to: reach displaced learners, protect and maintain education in emergency situations; and assist integration efforts. The Symposium forms the core of Mobile Learning Week and will feature over 80 breakout sessions, exhibitions, and a mix of panel discussions and high-level plenary addresses.
– Workshops to facilitate demonstrations of innovative mobile learning content, technology, research, and projects. Workshop presenters will share practical solutions to improve the quality of learning for vulnerable and displaced people.
– Strategy Labs hosted by UNESCO and UNHCR partner organizations to help guide the conceptualization and refinement of projects to expand educational opportunities for learners in emergency and crisis contexts. Strategy labs will be hosted by ITU, All Children Reading, ICEM, and the Connected Learning Consortium, among other organizations.
– A Policy Forum to examine how governments can foster innovation in the education sector and facilitate the acquisition of e-skills, particularly for disadvantaged or displaced learners. The Forum will bring together ministers of education, ministers of ICT, and leaders from private sector companies to discuss how coordinated action and newly affordable mobile devices can help countries address e-skills gaps and expand learning opportunities."
Source: https://en.unesco.org/events/mobile-learning-week-2017